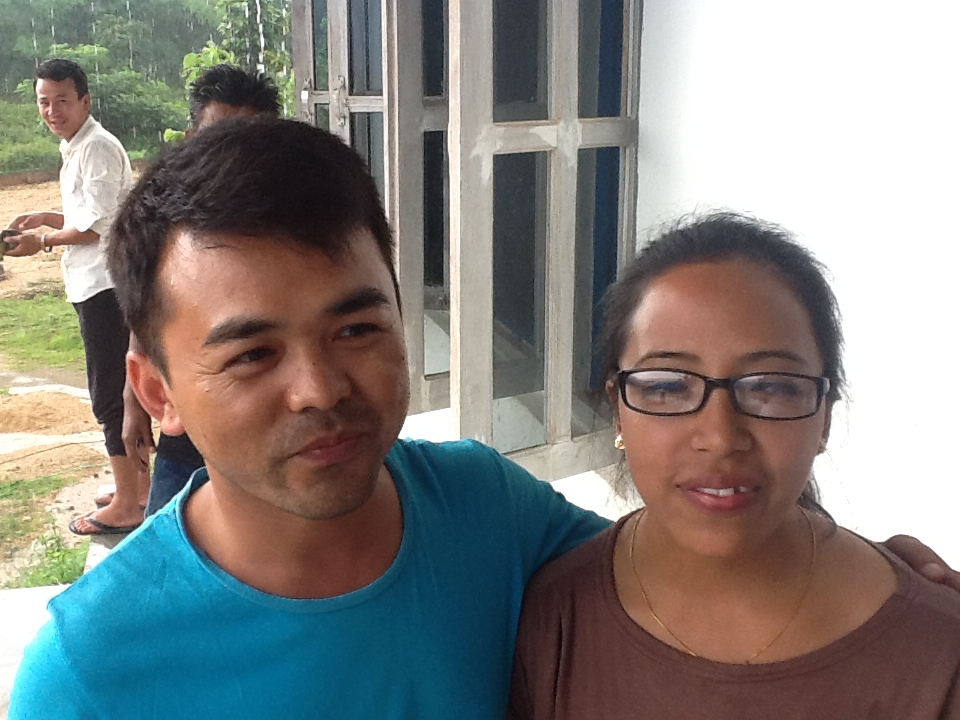 Mankaji Tamang, som arbetar heltid med att fixa allting i Nepal för Empowerment Nepal skriver här om projektets betydelse.
Den 5 juni i år gifte han sig med sin fru Sarkita.
Progress Report

The training is extremely powerful to expand and develop the church ministries and build up the quality leaders in the churches. In the context of Nepal, our church leaders never had such buildup training. This training is focused to build more quality leaders. Jesus Christ had select his disciples, train them and send over the world accordingly we had 30 Pastors to reach our nations and our pastors are excited to do according to the Mathew 28:18-20,
"Then Jesus came to them and said, "All authority in heaven and on earth has been given to me. Therefore go and make disciples of all nations, baptizing them in the name of the Father and of the Son and of the Holy Spirit, and teaching them to obey everything I have commanded you. And surely I am with you always, to the very end of the age".
Here are some powerful revolutionary changes in the Pastors lives and their church growth after attending this training.
Educational Revolution
Ps. Gopal Syangtan, Lamidada Pabitra Church, has no academic qualification. He has a strong faith in Jesus Christ with fearless heart. Lots of time local people prosecute him but his faith is same as before for Christ.
During this training he learned many new things, that he never known all this things. He gained many new ideas of good news preaching through this training, although during this training he formed a good news preaching team. After training hours he moves his preaching team to local areas to spread good news to the local villagers. Since he has no academic qualification this training is a master degree for him. Through it he learned lots of mysterious meanings from bible. It increases the level of his faith in Christ.
Learn & teach
Laxmi Moktan, Ranigunj Church, is the women leader in church has a great faith in Christ. Her husband is the pastor of the Church. They have great impact in their community that they are good example of Jesus' disciples. This training is the backbone for them to enlarge their ministry. They have one satellite church in 100 km walk distance from mother church and they are building more leaders. They are passionate to learn and teach through the training. Moreover they are focusing to build up more youth leaders.
Serving Jesus
Ps. Bir Bahadur Dong, Bulbule Pabitra Church, is the pastor with serving heart. He got a new life in Christ since he was at last stage of death. No doctor and medicine is able to heal him, but was healed through Jesus Christ. He is another pastor with no academic qualification. His church location is in very rural area of Nepal. There is no way for vehicles, from main road need to walk 3 hours by foot through the jungle way by foot to reach his village; where the church in located. He is serving people of God. Our training aids them to build quality leaders and he wants thank the team of Empower Nepal and God as well that we had provided such training to them.
Young life
Ps. Suresh Tamang, Hosanna Church-Hetauda, is the pastor with no academic qualification. But the amazing thing is now he can read and write fluently. He is the young pastor of our training. Before he came to Christ, he was a Maoist fighter. His life was in the jungle struggling to survive, was shot by army during war. Christ love change his life and now he is committed to build youth leaders in Christ to build his kingdom that he understand youth are backbone of God's kingdom. He is very much thankful for this training; this training rebuilds himself in Christ strongly to build more leaders. He wonders when he knows the mysterious things from the training.
Advantageous
Al most of pastors had no academic qualification, since in current situation in all churches is seeking well trained leaders and pastors. This training is building the pastors as churches are seeking and able to know bible deeply which is beneficial in point of biblical study as well as spiritual growth. The most common benefit of this training to all the trainee is time saving. Everyone are very busy to work in their field (farm) to survive as 80 percent of Nepalese depend on agriculture for survive. In the context of Nepal, Church is handled by pastor only. Pastor is running everywhere, in cell groups, youth ministry, prayer ministry… etc. But after this training they are able build quality leaders and they are helping to the pastors of the church. This is helping to enlarge their church and church planting in different location, even in very rural area, uncivilized area of the Nepal.
This is the God's will to use "Empower Nepal" to touch the nation through these pastors and turn Nepal to different direction that will glorify our Lord Jesus Christ. Amen.